STORYTELLING IN CORPORATE COMMUNICATION
MASTER COURSE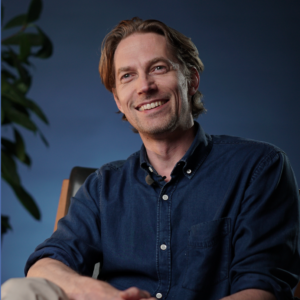 Jasper claus
Creative director and founder of 1Camera
Welcome to the 1Camera-course on storytelling. In this course, which
consists
 of five short videos, you will learn everything there is to know about true storytelling and how to apply it
to
your corporate communications. The course will be taught by Jasper Claus, an award-winning
corporate
film
director and the creative director and founder of creative video production agency 1Camera, based in Amsterdam, the Netherlands.
Through 1Camera, Jasper has advised hundreds of clients, including CEOs and communication directors of large multinationals such as Heineken, AkzoNobel, DSM, Achmea and FrieslandCampina, on their video communication strategies and creative storytelling concepts.
Jasper is passionate about storytelling and regularly gives workshops on the subject. His own storytelling work has been recognized by Hollywood's storytelling guru Robert McKee in his book, 'Storynomics'. 
We hope you will enjoy the course!
| Robert McKee - Hollywood storytelling guru
Watch DSM's mission-focused storified video Unsung Heroes of Science.
| Feike Sijbesma - Former CEO - DSM
You guys have delivered excellent work. With passion. Thanks and compliments.
| Stacey Tank - Chief Transformation & Corporate Affairs Officer - Heineken
I am so impressed by what 1Camera has delivered. The artistry and creativity was incredible!
| Michael Lightfoot - Chief Corporate Affairs & Sustainability Officer - Leaseplan
The great thing about 1Camera is that they don't just film your story; they help you create it. I've partnered with the 1Camera team for 13 years and have never experienced anything less than a truly intelligent, 'can-do' and creative approach.
| Erin Fitzgerald - CEO - USFRA
A few times in your career you get the privilege to work on a project with an exceptional team. From the moment we started to work together, Jasper approached everything from the angle of empathy and an appreciative eye. The film #30Harvests broke new ground in the conversation about farmers being part of the solution to climate change. I couldn't be more grateful for their care and attention to the story and our authentic partnership.
| Stefan Kloet - Communication director - Achmea
When you work with 1Camera you are dealing with the professional top of the Netherlands in the field of storytelling and corporate films. They really immersed themselves in Achmea and that's how we were able to develop a film together that captures the core of our identity and strategy.
| Aline van Keulen - Director Corporate Marketing & Head of Internal Communication - KPN
Together with my team I have been working very pleasantly with 1camera for many years.
On very different types of assignments. From concept to production.
They always know how to make something beautiful and appropriate for our brand and strategy.
Jasper Claus
Creative Director  & Founder
curious what we can do for you?