| Robert McKee - Hollywood storytelling guru
Watch DSM's mission-focused storified video Unsung Heroes of Science.
| Feike Sijbesma - Former CEO - DSM
You guys have delivered excellent work. With passion. Thanks and compliments.
| Stacey Tank - Chief Transformation & Corporate Affairs Officer - Heineken
I am so impressed by what 1Camera has delivered. The artistry and creativity was incredible!
| Michael Lightfoot - Chief Corporate Affairs & Sustainability Officer - Leaseplan
The great thing about 1Camera is that they don't just film your story; they help you create it. I've partnered with the 1Camera team for 13 years and have never experienced anything less than a truly intelligent, 'can-do' and creative approach.
| Erin Fitzgerald - CEO - USFRA
A few times in your career you get the privilege to work on a project with an exceptional team. From the moment we started to work together, Jasper approached everything from the angle of empathy and an appreciative eye. The film #30Harvests broke new ground in the conversation about farmers being part of the solution to climate change. I couldn't be more grateful for their care and attention to the story and our authentic partnership.
| Stefan Kloet - Communication director - Achmea
When you work with 1Camera you are dealing with the professional top of the Netherlands in the field of storytelling and corporate films. They really immersed themselves in Achmea and that's how we were able to develop a film together that captures the core of our identity and strategy.
| Aline van Keulen - Director Corporate Marketing & Head of Internal Communication - KPN
Together with my team I have been working very pleasantly with 1camera for many years.
On very different types of assignments. From concept to production.
They always know how to make something beautiful and appropriate for our brand and strategy.
BEST FIXER IN AMSTERDAM
Are you planning to produce a film in the Netherlands and are you looking for the best fixer Amsterdam has to offer? Whether it's interviews, documentaries, event reports, or commercials, 1Camera Corporate Cinema Agency can help execute your project with ease and convenience. We have over 15 years of experience in corporate video production for global companies, specializing in corporate storytelling and interviewing the C-suite. We can help you with any type of line production, from small- to large-scale productions.
A trustworthy Amsterdam production company, our organization has more than 20 in-house producers and specialists. We work with the best directors, DOPs, art directors, gaffers, and graders to create high-quality films and videos. Our line production team is available to help you during all phases of your project, from the initial strategy to concept, production, and post-production.
DUTCH SUPPORT FOR NEWS, DOCUMENTARIES, TELEVISION & FILM 
From navigating the city and remote locations to dealing with complex authorities, filming in the Netherlands is a challenging endeavor. However, you can make it a comfortable and successful pursuit with the help of a local line production company like ours. Regardless of your project (news, documentaries, media production, among others), we deliver high-quality services on time and within budget.
The Netherlands has its laws, cultures, and rules. As a fixer in Amsterdam, we are used to constantly adapting to unexpected challenges, no matter which location across the country. We are proud of our experience and expertise to guide you through the process and make your production a seamless experience. With state-of-the-art lighting, grip, and camera (RED, Arri, and Canon cameras), our team can work with any desired set-up.
Thinking about your next corporate video?
If you want 1Camera to help you create a corporate video that will engage, inspire and convince your audience, just book in a call or write us an email.
WHAT CAN WE FIX FOR YOU
Our services are designed for the busy filmmaker, minimizing unnecessary hassle and maximizing efficient and productive shooting. From scouting to location sourcing and finding the necessary permits, we can take care of all the requirements and details. You name it, we can fix it!
As the term "fixer Amsterdam," our focus is to fix and arrange everything for you through the following services:
Production services: Do you need an Amsterdam production company to support filming your award-winning video? We can fix every aspect of your video production, such as location, technical equipment, and crew.
Location scouting: With our assistance, you can give a twist to your video by filming in the best spots (or anywhere) in the Netherlands. We know the perfect location to ensure your vision gets captured perfectly.
Film Permits: If you need help with the film permit process in Amsterdam, get in touch and let us know your requirements. Our experts can help you obtain the permits and other legal requirements.
Crew sourcing: Finding DPs, Gaffers, editors, and directors in Amsterdam is now easier than ever. Our DPs and other specialists are skilled artists who can turn your vision into a reality.
Casting: With years of experience in the industry, we can help you cast the right directors, actors, and models for your film or video.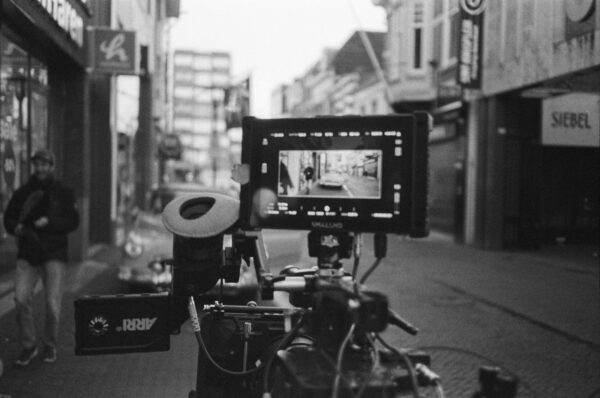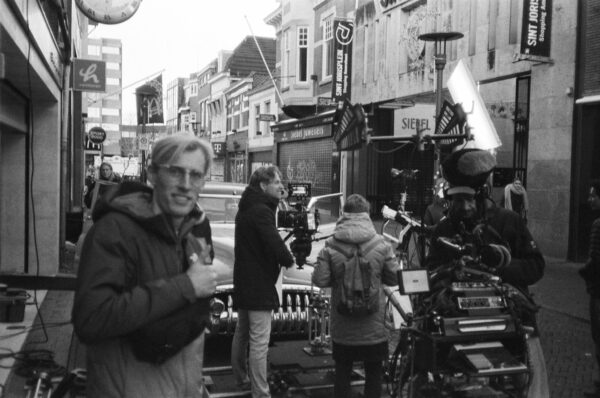 Equipment rental: Audio, film, and video production have never been more accessible. With our rental cameras, lights, gear, and grip supplies, you can create exciting and quality work.
Droning: Our state-of-the-art drone cameras offer an easy way to shoot jaw-dropping aerial videos and photos. You can rent our drone cameras, or our experts can operate them for you.
Itinerary support: As a full-service company, we can provide itinerary support, allowing our clients to focus on their core business. This also ensures you won't miss any crucial part of your film production.
Logistic support: No more trying to figure out whom to contact and how much it will cost to bring your equipment and other logistics to Amsterdam. With us, you have expert advice, insights, and tips.
Creative input: Creativity is a crucial part of any media production. Our professionals have the knowledge and experience to give your project the creative edge it deserves.
Transport supply: Does your production need transport support? We have the resources to provide you with the best service possible.
Release form: This is a legal document that protects all parties involved in a project. It creates a safe and thriving work environment for casts and crews.
Payroll: The Netherlands has complex rules and regulations when it comes to payroll. Our professionals can help you navigate this process while saving you headaches and money.
Revealing stunning spots: The Netherlands boasts many beautiful, little-known spots that would be perfect for your film. Our team can help you discover these locations.
WHY WORK WITH US 
Because we get it! You are in Amsterdam to document your new documentary or media production. Our professionals will ensure that your shooting runs smoothly and trouble-free, from the moment you arrive until you leave.
With over 14 years in the business, we have gained a wealth of experience, which has helped us become better at our craft, and, equally important, ensures that the shoot is a pleasant experience for you and your team. As a reliable Amsterdam production company, we offer hands-on experience and extensive knowledge of the Netherlands, while always following the most efficient procedures.
In addition, our clients love us due to the following reasons:
Seamless experience: We make your production as easy as possible.
Turnkey solutions: With a full range of services, we can be your one-stop resource for your film or video production.
Large network: Our network of DPs, directors, location managers, and crew is the largest in the country.
Personalized services: We manage productions according to your exact specifications.
Competitive packages: For the price of one, you get a team of production coordinators.
Fully insured: We carry insurance policies that cover public and employers' liability, so you don't have to.
GET A FREE QUOTE TODAY 
Whether it's a blockbuster film, a documentary, or event news, working with the right fixer in Amsterdam can make all the difference. Together, we can fix and craft your story, film, or video. We understand that these are a labor of love, and we want to assist you in making the best it can be!
Alyssa Hendriks
Head of production