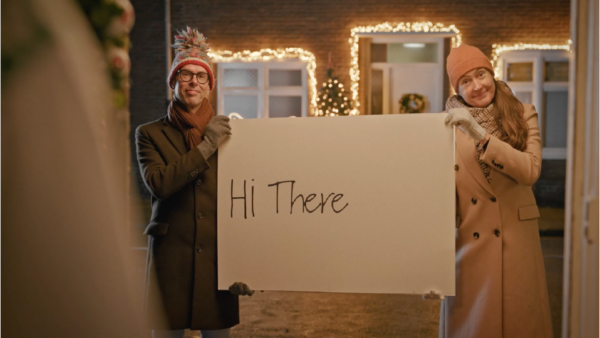 Christmas commercials in March?! Ha yes, we know it may seem a bit early to start thinking about the holiday season already. However, we believe it's never too early to start preparing for something that requires careful planning and execution.
With this article our intention is not to rush you into creating your Christmas commercial already, but rather to give you some food for thought for when you do start working on it. By starting early and giving careful consideration to your storytelling approach, 2023 could be the year that your Christmas commercial will be a big hit by truly resonating with your audience.
STORYTELLING IN CHRISTMAS COMMERCIALS
Christmas is a time when emotions run high, and the power of storytelling can make a lasting impact. At this time of year, a well-crafted story can tug at the heartstrings of viewers and create a heartfelt impression. We believe in the importance of storytelling when it comes to creating impactful Christmas commercials.
We have put together a list of our 12 favorite Christmas commercials that showcase the power of storytelling. These commercials are not just selling products; they are selling an experience, a feeling, a memory. They tell a story that resonates with viewers, using real people, situations, and emotions that are eventful, surprising, touching, and relatable. These commercials lead the viewer towards the brand's message without shoving it in their face.
If you pay close attention you will notice that all of these Christmas commercials have a certain flow to the story. They are all about a protagonist who overcomes struggles, whether it be physical, interpersonal or internal struggle, to rise to a challenge that evokes positive transformation. These commercials truly focus on the story, touching the heart of the viewer without any bragging or promising about their products or services. And only at the end of the commercials, around the last 10%, the message of the sender is brought. This may sound counterintuitive, but once the story has touched your audience's heart, their mind will open and you can pour your message right in. And we think these commercials are the perfect example of that.
If you want to learn more about the principles of True Storytelling, then read the following article:
the principles of storytelling
MUSIC IN CHRISTMAS COMMERCIALS
The use of music in Christmas commercials is another significant aspect to pay attention to as it can dramatically increase the recall of a commercial. Music has the ability to evoke emotions such as nostalgia, joy, and warmth in viewers, thus reinforcing the story depicted on screen.
Certain commercials use iconic songs, such as J&B featuring the original version of 'She' by Elvis Costello, also known from the movie "Nothing Hill", or Milka using 'You've Got the Love' from Florence and the Machine, performed by the children in the commercial. Other companies like Doc Morris choose to use only instrumental music, starting with soft tones and gradually increasing the intensity to create a beautiful dramatic effect. Both options can work very well.
Overall, music is a powerful tool that adds value to the True Storytelling experience in Christmas commercials. It can create a lasting emotional impact, it can tie content from multiple campaigns together, and can enhances the overall viewing experience. As such, it should not be overlooked in the production of Christmas commercials.
OUR TOP 12 CHRISTMAS COMMERCIALS
We've carefully curated this list of our top 12 favorite Christmas commercials, in a random order here since they are all great, each one expertly crafted with the power of True Storytelling. From heartwarming moments of kindness to unexpected surprises that will leave you grinning from ear to ear, these commercials will undoubtedly make a lasting emotional impact. So, grab a box of tissues and get ready to be moved by the magic of the holiday season.
1. Doc morris Christmas commercial – Take Care of Yourself
A heartwarming Christmas commercial by Doc Morris, a Dutch pharmacy company, features a German grandfather's inspiring fitness journey with a rusty kettlebell. The commercial shows him working hard every day at lifting weights, all for the joy of giving his granddaughter a special gift during Christmas. The commercial went viral and moved many viewers to tears.
The spot was created by the German ad agency Jung von Matt.
2. Plus 2017 – Good food is best enjoyed together
The  2017 Christmas commercial from supermarket chain PLUS shows a refreshing take on the holiday season, particularly for children of separated parents who may find it exhausting to celebrate Christmas between two households. The commercial features a girl constantly shuttling between her father's and mother's homes. While her father only has a small Christmas tree, her mother prepares for a big family dinner. The girl eventually comes up with a plan to reunite the family.
3. Plus 2018 – family traditions are there to be passed along.
Another one from Plus. In this 2018 Christmas commercial, the retailer once again highlights the connecting power of eating together, this time featuring a family recipe and an emotional family story. Christmas is the time to be together and enjoy good food, as the annual Christmas creed of Plus goes. Family traditions are very important during this period, not only the tradition of how we celebrate Christmas together, but also the tradition of what we eat. The commercial shows a woman preparing a beautiful Christmas dinner with her family, following a traditional family recipe step by step, but we gradually discover that this Christmas is different from previous ones.
(Since there was some unclarity, when this commercial aired, about who passed away: it was the mother).
4. Plus 2019 – Good food is best enjoyed together
Ok, ok, it is clear we are big fans of the Christmas commercials of the supermarket chain Plus, that touch us in the heart every time. The commercial of 2019 is again titled ' Good food is best enjoyed together, especially during Christmas'.
While Christmas is traditionally a time to gather and enjoy good food together, not everyone is able to do so for various reasons. Plus' 2019 Christmas commercial shows a family abruptly leaving the dinner table to jump into the car with their entire Christmas meal, even bringing the Christmas tree with them. The film follows the family's journey towards a beautiful climax.
5. Milka – The Unsung Hero
Milka's "The Unsung Hero," created by Wieden + Kennedy Amsterdam and Cake, features a young singer at an Alpine school forming a special bond with a man working there. On the big night the girl, together with the rest of the choir, performs "You got the love", but during the song she steps to the front to thank the guy in sign language, demonstrating empathy and the importance of sharing. The commercial highlights the line "Give to those who give most."
During the making of the Christmas commercial, W+K and Milka collaborated with the European Union of the Deaf for consultation. They even created this beautiful sign-language interpretation of the soundtrack:
6. Plus – Christmas commercial 2022
Ok, last one of Plus, we promise! Their 2022 commercial is about the rebellious teenager Gio who unexpectedly meets his new stepfather. This commercial is raw, real and unfortunately very recognizable for many of us. And even if you haven't personally experienced what it's like to be part of a blended family, you can still easily relate to the teenager and the other family members. A beautiful, almost Scandi style film-like Christmas commercial that (if you're not careful) hits you hard.
7. Penny – X-mas 2017
The 2017 Christmas commercial of Penny portrays the sorrow families can experience during the holiday season. It depicts a mother's struggle to reconcile with her estranged daughter, as she navigates through an intense emotional storm. The commercial features stunning special effects and showcases the mother's journey towards forgiveness, years after a fight with her pregnant adult daughter.
Penny's emotional holiday commercial encourages reconciliation, acknowledging the pain many feel during the season. Its message: "However long the path might seem, it's Christmas. Time to reconcile."
8. Memories – Christmas Advert
Memories is a service that enables you to send photos, videos, or letters to yourself or loved ones at any point in the future, it being days, months or even years. Their touching Christmas commercial portrays a guy who receives an heartfelt message from someone in the past. The commercial shows how the absence of loved ones can be extra felled during the Christmas period. A very relatable topic.
9. Edeka – 2020 Christmas commercial
Edeka's 2020 Christmas commercial tackles both diveristy and the corona epidemic in one. In the commercial we see Mr. Schmidt, an elderly and somewhat grumpy white man, who harbors disapproval towards his Muslim neighbors. He scowls disapprovingly as their children play noisily in the courtyard, and declines their generous offer of baklava while preparing for Christmas. However, when the coronavirus outbreak hits, he learns to appreciate their kindness in a time of crisis.
The commercial was particularly relevant during the corona epidemic as it addresses issues of racial prejudice and loneliness, but ultimately delivers a positive message about diversity.
10. Jumbo – Snowman
In Jumbo's 2022 Christmas commercial, we are invited into the mind of father Frank as he reflects on the happy times he had with his  children when they were younger. However, now that his kids are teenagers, they find his attempt to make a snowman silly. The heartwarming commercial resonates with many fathers and mothers, as it depicts the familiar family dynamics.
11. John Lewis & Partners – The beginner
John Lewis delivered a heartwarming and iconic Christmas commercial that strikes an emotional chord. It tells a beautiful story of a middle-aged man very determined in practicing his skateboarding skills. He skates in parks. He skates under his desk at work. Again and again, he drives his body to the point of destruction. And for what? Well, it turns out that he is becoming a foster parent, and that the girl is a big skateboard fan. He's finding common ground to make her feel comfortable.
12. J&B – She, a J&B tale
This is probably our favorite. J&B, a whiskey brand, has released a touching Christmas advertisement in Spain, urging families to embrace their transgender members during the festive season. The three-minute video, directed by Gabe Ibáñez, features an elderly man attempting to apply makeup without success. He ventures out to learn more about makeup, purchasing more cosmetics and even studying billboards for tips on achieving the desired look. Although the film initially appears to be about the man's exploration of his transgender identity, the final reveal reveals that there is much more to the story.
Unfortunately this video is restricted to age, but we highly recommend you to watch this video on youtube.
CHRISTMAS COMMERCIALS AND MORE
We hope that our top 12 Christmas commercials has sparked your inspiration and will help you to brainstorm ideas for your own corporate communication during the holiday season. At 1Camera, we understand the importance of standing out during this festive time and creating a message that resonates with your audience. If you're looking for a reliable partner to help you bring your ideas to life, we are more than happy to help. Our team of experienced professionals can provide you with the support and expertise you need to create a communication strategy that truly captures the essence of the season.
In addition, we will soon be releasing an article that explores different video ideas that you can use during the Christmas period, like videos from the board to all employees, employee interviews about topics around Christmas, or Christmas-event video's. We'll provide you with a range of ideas that you can incorporate into your communication strategy. Keep an eye out for this upcoming article on our website.
Don't let the holiday season slip by without making an impact. When the time is there, contact us to discuss how we can help you create a corporate communication strategy that will connect you with your audience and leave a lasting impression.